Latest project by Betty Berk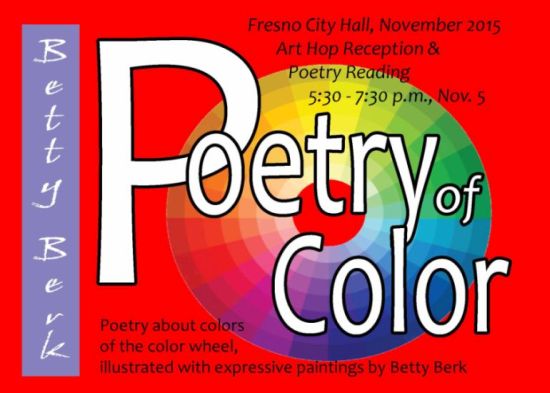 The Poetry of Color project consists of ten poems about the colors of the color wheel, plus one for black, white and gold. Through her poetry, Berk describes the qualities the colors represent to her. Green is the color of hope. Blue is the color of freedom, and so on. Accompanying the poetry is an artwork, and in some cases, two artworks to capture the feeling of the poems, visually. This series of poems and paintings are on display at Fresno City Hall for the month of November, 2015. There will be a poetry reading and discussion of her series at 5:30- 7:30 at the art reception on Thursday, November 5.
This series also exhibits at the Arts Consortium, 400 N. Church Street, Visalia for National Poetry Month of April, 2016. Art Reception to be announced.
---